The trend of the times 'ESG'... Entrepreneurial environmental manageme…
본문
[Seoul=Newsis] Reporter Min-wook Bae = ESG (environmental, social, governance) is expected to become a big topic this year as well. ESG has become an irresistible trend for growth and leap forward as a sustainable company.

Due to the explosive growth of population and consumption, rapid urbanization, and excessive use of nature, the world we live in today is living in danger of environmental destruction at an unprecedented rate in history.

Companies are strengthening their ESG management through various environmental projects. The expansion of corporate conservation measures and sustainable production and consumption efforts are expanding.

According to related industries on the 3rd, 'Koala', a furniture brand born in Australia in 2015, is one of the companies that act to protect the environment through consumption. Since its inception, it has been conducting various donation activities with global environmental protection organizations such as WWF (World Wildlife Fund) and '1% for the Planet'.

All Koala products are 100% vegan. To protect animals, we do not use animal materials such as goose, but mainly use plant-derived materials such as Tencel.

Coca-Cola has been conducting a water reduction project with WWF since 2007 to return to communities and nature the same amount of water used in beverage production worldwide. Coca-Cola has established cooperation with more than 500 various partners, including governments, civic groups, and individual private organizations, to exceed the Coca-Cola goal of 115% in 2015, exceeding the Coca-Cola target of 100%.

Coca-Cola Korea was launched in 2017 as a Korean-style water reduction project in connection with the Pyeongchang Winter Olympics for the first time. In 2018, in cooperation with WWF-Korea (Korea Headquarters of the World Wildlife Fund), 'Sirye-ri Ditch Pum is the Clean Village No. 1 Reservoir' and Ditch Wetland were completed.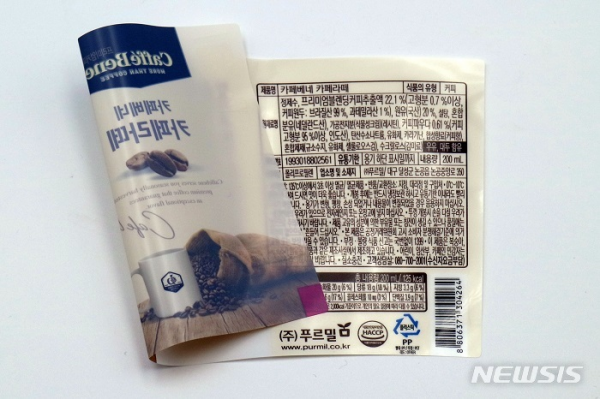 SR Technopack has developed eco-friendly oxygen barrier coating films GB-8 and GB-9. GB-8 technology is a coating solution supplemented with special technology to polyvinyl alcohol (PVOH), which has an excellent oxygen barrier effect. It is a technology that can create a high-barrier material by itself if it is applied and coated on a material that needs to block oxygen. It has 3 times more oxygen blocking effect than conventional oxygen blocking film.

Unlike the existing packaging containers that used a combination of heterogeneous materials were classified as 'Other' and discarded, products using GB-8 packaging materials can be recycled without separate discharge by consumers.

SR Technopack's eco-friendly oxygen barrier coating film is being supplied to 7 domestic and foreign food and beverage companies, including Purmil, Seoul Milk, Starbucks, and Nestlé Malaysia.

Moorim and Kolmar Korea developed 'Neo CCP R30', an eco-friendly packaging paper using recycled pulp, four months after the signing of the business agreement in July last year and applied it to cosmetic packaging materials.

NeoCCP R30 is a product that strengthens strength, color reproducibility and eco-friendliness by grafting recycled materials to Moorim's premium packaging paper, Neo CCP. Recycling of resources was improved and unnecessary waste was minimized by using recycled pulp using discarded paper.

Kolon Industries succeeded in developing biodegradable plastic 'PBAT' together with SK Global Chemical in April last year. PBAT is an eco-friendly, high-tech material that decomposes naturally within six months if more than 90% of the product is buried in the ground after use. It can replace agricultural plastics, disposable bags, and fishing nets, which have been difficult to recycle, as well as natural decomposition of waste plastics that were not recyclable due to contaminants.

Kolon Industries, along with LG Household & Health Care and Lotte Aluminum, also developed a 'recycled plastic film' (PCR PET film) that recycled plastic for the first time in Korea. The recycled plastic film will be applied to the packaging of household goods and food containers launched by LG Household & Health Care and Lotte Aluminum.