SR Technopack, eco-friendly packaging material 'GB-8' won the Minister…
본문
-Received the Minister of Trade, Industry and Energy Award for eco-friendly technology that improves consumer convenience and increases recycling rate in Korea Packaging Daejeon

-Acknowledged as an eco-friendly technology, commercialized at home and abroad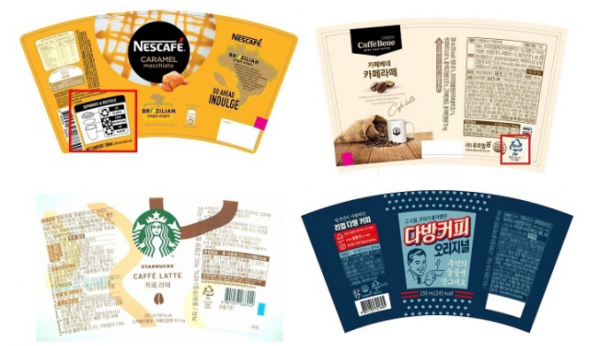 GB-8 applied RTD cup coffee package design (clockwise) 'Nescafe Malaysia Caramel Macchiato', 'Purmil Caffe Bene Cafe Latte', 'Dongwon F&B Sowanamoo Coffee Original', 'Starbucks Cafe Latte',
[Herald Economy] SR Techno Pack (CEO Cho Hong-ro), a company specializing in packaging material production, announced on the 6th that "GB-8," an eco-friendly oxygen blocking coating technology developed with its own technology, won the Minister of Trade, Industry and Energy Award at the 14th Packaging Daejeon.

Korea Packaging Daejeon is hosted by the Ministry of Trade, Industry and Energy and supervised by the Packaging Technology Center of the Korea Institute of Industrial Technology, and is the most prestigious award ceremony in the domestic packaging technology industry. It is an event to raise reputation by selecting products and designs that have contributed to the development of domestic industry.

SR Technopack's oxygen barrier coating film 'GB-8', which won the award this time, is characterized by being able to be recycled without separate discharge by consumers, unlike conventional packaging. It has an excellent blocking effect even when applied in a very small amount, so it is analyzed as the same ingredient even when disassembling recycled pellets.

Currently, 'GB-8' film is applied to Nestlé's Malaysian branch's RTD Cup Coffee, Starbucks, Nescafe, Purmil and Dongwon F&B, taking the lead in the commercialization of plastic waste reduction technology. In addition to in-mold cups, it is being researched and developed to contribute to waste reduction in the long term by applying it to food packaging materials including metal as well as all packaging materials requiring high barrier properties.

Meanwhile, the person in charge of SR Technopack said, "Recently, interest in eco-friendliness is increasing as various environmental issues are highlighted amid the rapid change in the industrial environment due to COVID-19. I will do my best to take responsibility and make it appear."